Free Vitamin D Elisa
This assay is the result of a collaboration between DIAsource ImmunoAssays S.A. and Future Diagnostics Solutions B.V. Future Diagnostics has filed a patent application for this assay and has granted to DIAsource ImmunoAassays its exclusive commercialization.
The Free 25OH Vitamin D ELISA is a competitive ELISA assay, based on patented monoclonal antibodies, that allows for the direct measurement of the free fraction of 25OH Vitamin D in serum. The assay is calibrated against a symmetric dialysis method. It shows excellent sensitivity, precision and performance characteristics, as performed according to the CLSI guidelines.
The assay is unique and exclusively available at DIAsource Immunoassays.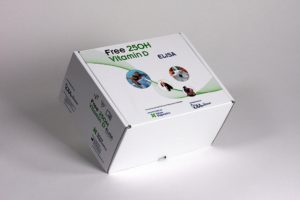 Please see below more details about Assay protocol
Free 25OH vitamin D ELISA Assay Protocol
Assay protocol :
Reagent preparation
10 μL Reconstituted Calibrator, Control or sample
Incubate 90′ 37 °C shaking at 650 RPM
Wash 3 x 350 μL
100 μL Working dilution Biot-VitD reagent
Incubate 30′ 37 °C shaking at 650 RPM
Wash 3 x 350 μL
100 μL Streptavidin-HRP reagent
90 μL Sample diluent
100 μL Substrate reagent
15′ room temperature, stationary in dark
100 μL Stop reagent
Read at 450 nm
Calculate results